All of our archive material has now been returned to the newly refurbished Methodist Goliath room backstage. Shelves were installed by our 'handymen' members and Jackie, our Archivist, oversaw the return of items and where they were to be stored. Things went almost to plan although Jackie does now have a few grey hairs !
A big thank you to those involved.
Janet Coles (9), Maureen Collis (7), Jean Collis (6) and Shirley Coles (5) all of Nicholas Road sold toys and groceries and raised £3-12-6d
Six year old Nicholas Houghton of Station Road sold fruit and vegetables in an individual effort. He raised 12s 4d.
The five children handed the money over to Mr C.E.Grimmer to add to the town's effort. Well done to them as not one is even ten years old.
From Northampton Mercury. June 1935
At the well attended Carnival Dance in the Harmonic Hall in aid of the Hospital Fete Committee the Waltz Competition was won by Miss Florence Inward and Mr Charlie Ager.
Early in 2002 Irthlingborough Town Council passed a letter to the Society from Mr. William G. Wolston whose ancestor, John Woolston, had emigrated to America from Irthlingborough in 1775 on the ship Kent. The letter was headed "A request to send greetings spanning 225 years". As the Woolston families were meeting, some of them for the first time, at a reunion in America and William, soon to be known to us all as Bill, would be delighted if a town official would send greetings as doubtless there would be many references to the town of John Woolston's birth.
As secretary of the Society at the time I duly sent greeting along with a number of references to the name Woolston in the town. (Wolston is the American spelling of the name)
The reunion was a great success and Bill and I and the Society continued to correspond. In Sept that same year Bill wrote to say the he and his wife Tish (Letitia) were to holiday in Cornwall but when the party they were travelling with left for the Sates they would like to come to Irthlingborough for a few days. Could the Society book them into a hotel and perhaps show them around ?
The days of the Bull Hotel were numbered and no rooms were being let. Kelly Russell had just taken over The Oliver Twist, a chef had been hired and meals were being served so, being assured that although no other guests were expected the Americans would be well looked after, the room was duly booked.
The late Ted Barker and myself (Society members), were detailed to meet the taxi when it arrived. We had no idea then what a brilliant few days were in store. Kelly and her staff certainly pulled out all the stops to make their guests welcome. A large upstairs room overlooking the frontage of the pub and the High St had been prepared but Bill asked for one change - no room service, they would prefer to eat in the pub with the locals. Something they really enjoyed - along with the local dialect!!
Prior to their arrival a copy of a photo of Bill and Tish was given to all members with the caption "If you see this couple in the street, please speak to them". Early on their first day they visited the Post Office and on walking down the incline they were greeted with a shout from across the road "Oi, are you the Americans?" It was member Sid Howlett introducing himself as only Sid could!
Bill and Tish loved it and in 2013 Bill was still asking after Sid.
During that morning Ted and I took the couple on a walking tour of the West end of the town. Bill thought that his ancestor may well have seen my house in Baker St being built in 1727 and didn't they enjoy seeing down my cellar with those lovely smooth steps. Ted's house in High Street West, now believed to be the oldest house in the town, was explored as well, including viewing photos of the skeletons found in the back garden during one of Ted's digs. During its time the house had been a Friends Meeting House and possibly the burial ground contained rather more than the two skeletons Ted had found.
The next day I drove Bill and Tish to visit the Addingtons and Woodford to walk in the possible steps of his ancestors. Later we parked at Ringstead Mill where Bill shouted a greeting to a man steering a large boat who immediately responded "You an American?" and then invited Bill on board to go through their 300th lock with them.
Tish and I sat in the car and enjoyed a cup of coffee from the flask until Bill returned some time later. He was so elated, he really enjoyed going through that lock.
Next day four of us explored the East end of the town. "A cross without a cross" was how Tish described our old monument. The council Offices where Margaret and Gloria had various items, including the old Irthlingborough map, laid out for them. Next on to the Baptist Chapel, where the old cottage opposite the Chapel took Tish's attention, along with the pond and it's Koi Carp. Tish had been capturing everything on her camera and was about to take a photo when a man came out of the cottage. Tish asked if he minded if she took photos "You're Americans!" he said. Tish then told him that they were looking round the town and he asked if we would like see over the cottage. (Would we.. just try to stop us!!) Colin and Janet Tucker, who were the owners at the time, were really kind showing us all the nooks and crannies of their home. Later, enjoying a cup of tea, Janet placed a beautiful lace cover with weighted corners over the milk jug (remember them? To keep the flies out of the milk) "Oh my" said Tish, "that's an old fashioned custom". When we left Janet asked Tish if she would accept the cover as a memento of her visit. Wasn't that a lovely gesture?
Bill and Tish were able to attend one of our meetings and meet up with some members, a most enjoyable evening.
Everyone they had met had gone out of their way to make this visit such a memorable one, we were absolutely delighted with this. Of course Bill, being a big genial American with such enthusiasm for the town could have had a lot to do with it !
Although still a member of the Society I stood down as secretary but continued to correspond with Bill.
Sadly Tish died a couple of years ago but I continued to hear from Bill. Early in 2015 Bill's daughter wrote to say that Bill had passed away.
Bill always remembered his visit to Irthlingborough and had kindly left $1000 to the Society.
Thank you Bill....
The Society is also indebted to Jean for keeping up her correspondence with Bill and Tish which, along with the friendly reception given to the Wolstons on their visit, we are sure contributed to Bill leaving such a generous legacy to the Society.
Earlier this year, due to the refurbishment of the Chapel Schoolrooms, the Society had the mammoth task of moving our computer and archive material from its usual place, behind the stage.
Some items were kindly stored in the garage of one of our members but the bulk had to go to a commercial storage company which cost the Society in excess of £1500!
The work has now been completed and we are now holding our meetings in the newly updated schoolroom.
Members have been refitting the shelves in readiness for the return of all of our archive material to its new home within the next few weeks.
We are very impressed with the new schoolrooms, well done to the Methodist team who have overseen the refurbishments.
Must be mixed with cold water as if you were mixing it for the table.
Cut out a piece of brown paper the size and shape of the part to be poulticed, spread with mustard mixture turn and then cover with soft cloth.
I am told ONLY brown paper works...
The Society is in such a flourishing estate, the present premises in the High Street are inadequate to meet the increasing trade, which in order to cope with the Society has decided to build a branch store. A piece of land in the backway has been purchased for £201.00 on which it is proposed to erect a building compromising a grocery and general store, a butchery, stable and storekeepers home. The tender of Mr. Lovell of Raunds was accepted at £1315.00. Work is to begin at once.
July 21st. 1915 W'boro' News
By the kind invitation of Mr J.K. Perkins of Finedon Road, 20 wounded men from the Higham Ferrers V A D Hospital were entertained on Saturday. The men were fetched in Mr Perkins' motor-car by his son. The sister of the Hospital was present. Tea, games and entertainment for the afternoon. The Soldiers expressed their pleasure. and thanks Pte Walter Neville (of Irthlingborough) who has been in the hospital for some time was also present. He had been invalided home from the Dardenelles.
(Mr Perkins arranged many events for the Hospital including a Town Ball held in the Central Hall of the Council School. (May 24th 1918) The floor had been specially prepared and excellent music was supplied for the dancing by Randall's Band (Mr J. Randall) Mr Perkins himself bore all expenses and every penny raised was donated to the Hospital and men)
To assist in the sale of corresponding numbers for the Higham Ferrers V A D Hospital, the Irthlingborough Ladies Drum & Fife Band (Conductor, Mr S. Robinson) paraded the town. Collectors accompanied them and a brisk trade was done, over £4 worth of tickets were sold.
Afterwards Mr J.K. Perkins of Boscombe House in Finedon Road entertained the Band and 20 of the wounded men to tea. The soldiers were accompanied by the nurses and Matron also Mrs Patenall (Mayoress of Higham Ferrers)
(Must have been a splendid sight to see the Ladies Drum & Fife Band marching round Irthlingborough streets on behalf of the wounded soldiers in the local hospital. Any further information on this Band would be much appreciated.)
As this year is the Centenary of the beginning of the Great War the Society, in co-ordination with the Council and other groups in the town, plan to commemorate this event.
For our part we intend to display photos of the fallen in appropriate venues around the town. There will also be a collage of all of these photos on display in the Library. At the Church Summer Fete on 19th July we are holding a small exhibition of photographs and artefacts in the church
At some point, the names of the fallen will be read out along with poems written at the time by poets such as Wilfred Owen and Siegfried Sassoon.
More on this event will be announced shortly...
Compiled on behalf of Irthlingborough Historical Society.
Thank you for reading our Newsletter, we hope you found it of interest. We are always pleased to receive your comments.
NEWSLETTER
Dec. 2013
The threat / promise of a hard winter ahead, prompted a couple of our members to relate tales
of their experiences in the winter of 1963, both relating to cars and snow…
The long way home
Riding around on a motor-scooter in the fifties when at school was all very well, but when I went to college in Winchester a journey of 120 miles each way, especially in winter, was quite another matter.
Even in the 1960s Winchester was a very busy city and a Lambretta scooter was an ideal way of getting around quickly and avoiding the queuing cars, lorries and buses. However, as winter approached riding a motor-scooter one hundred and twenty miles back to Irthlingborough on a cold Friday evening was not a very pleasant experience. After one such journey I decided that enough was enough and on the following morning presented myself in Frank Cook's showroom at Broad Green in Wellingborough and exchanged my scooter for the latest craze in motorised transport – a bubble car!
The only problem was that I had never driven a car and certainly did not hold a licence which allowed me to do so. That was quickly solved – the reverse gear was blocked off and the vehicle then legally fell into the same class as a motor bike or scooter. Not being able to reverse proved no problem as the thing was light enough to be pushed, shoved or manoeuvred around in any direction. Neither did the fact that I didn't know how to drive it cause any consternation to furrow Mr Cook's brow – he simply sent me off with his son to Hardwick Road for my first lesson.
Thankfully, the Mad Mile in those days was not the racing circuit 'straight' for those trying to drive as fast as they could towards Sywell as it is today and having explained the mysteries of accelerator, clutch and gear-lever my instructor invited me to have a go myself. One or two 'kangaroo jumps' to start with, but I soon began to get the hang of things, so much so that I was told that no further instruction was necessary and off we went to the showrooms to tidy up the financial arrangements. Then I was handed the keys and wished 'a safe journey' to Irthlingborough!
My real test came the following afternoon when I set off, alone, to return to Winchester. I do not think that a three hour journey has ever seemed as long as that one did. Thankfully, in those days lorries were seldom seen on the roads on Sundays and the majority of family trips out with granny seemed to avoid the main roads – even so I was mighty glad to reach my destination just before darkness fell as no one had shown me how to switch on the lights, and I certainly had no desire to stop and find out for myself. I just wanted to get there!
It was great while it lasted. A novelty vehicle which was cheap to run and easy to manoeuvre, but it was not to last. In January 1963 the snow lay deep, and crisp and even all over England, including the roads. No mad dash by gritting lorries and ploughs to keep those vital routes of communication open in those days and great reliance seemed to be placed on the movement of lorries to keep the snow and slush at bay and off the road surface. This seemed to work at the time, but one Monday morning when I set out from home to return to Winchester I soon discovered that the lorries, with four wheels, had cut two furrows through the snow and ice. This was fine for four-wheeled vehicles who could easily follow in them. No so for a bubble car with three wheels! The front two easily fitted into the furrows but the single wheel at the back was riding over packed ice, some nine or so inches higher.
How I got as far as the Oxford bypass I shall never know, but when I did the rear wheel hit some deeper ice, the car tilted forward and flipped upside down and there it remained. Thankfully some lorry drivers had seen the catastrophe and came to help. The bubble car had a sun roof which I was told to open and to keep quite still, not easy when one is upside down, whilst the drivers lifted the vehicle off me. One of their number then drew his empty lorry forward, the bubble car was unceremoniously lifted onto it, and off we went into the city to seek out a garage which could carry out the necessary repairs. I then completed my journey on a Royal Blue Coach (remember them and Associated Motorways?) the driver of which had no difficulty in guiding his wheels along the furrows in the snow.
No, a bubble car was not really for me and it was not long before I passed my Driving Test and bought my first four wheeled car, a brand new mini and I even got change out of £475. Yes, with four wheels now I would be ready for the next time deep snow covered the land.
Roy York
---
A Christmas Carol ( with a difference)
Hark the Herald angels sing
Beechams pills are just the thing
Two for an adult, one for a child,
Half for a baby meek and mild.
If you want to go to heaven, you must take at least eleven
If you want to go to hell you must eat the box as well
Hark the Herald angels sing
Beechams pills are just the thing!!.
---
Jean Rowland tells the story of their first car, purchased before the winter snows of 1963 set in. It would prove to be a good investment!
THEY DON'T MAKE 'EM LIKE THEY USED TO !!!
Our house in Windmill Road was the only one with a garage but as we didn't have a car to put in it, the garage stayed empty for a couple of years.
Then we heard that Terry Marshall had a car for sale. It looked too good a bargain to miss- (under £40)
No MOT was needed in those days so, even though it listed to the left quite a bit we bought it..
Terry threw in four cushions which we had on the back seat, what luxury! And didn't we enjoy our new lifestyle.?
Then came that really awful winter of 1963, one of the worst on record.
Due to the ice and drifting snow we were unable to get the car into the garage so we were forced to leave it out on the street exposed to the elements!
Our hearts sank each time we turned into Windmill Road. There it was, covered in snow, ice and more snow - our listing car looked a sorry sight. We thought it was goodbye to us ever using that car again.
When the thaw set in we scraped the remainder of the snow away, thawed out the door lock, popped the key in the ignition and hey presto - it started almost straight away. We couldn't believe our ears when we heard the engine chugging away. We had many more outings after that in the old car. Good old reliable Ford.
---
In 1935 it was reported that a full Christmas dinner was given for 50 tramps at the Hostel on the A6 (known as the Tramps Palace) Word must have spread as the following report was published a few years later when the number had risen to 140 for the Christmas meal plus a general increase in the number of "visitors"
GET THEM DIGGING
It seems that in the early 1940's the Public Assistance Board became concerned at the number of "hoboes" seeking shelter in Northampton and felt that this was because of the closure of many casual wards in the area and because Irthlingborough Casual Ward now required "visitors" to do digging in return for a meal and a bed.
It was reported in the Wellingborough News that Councillor G.Clayson suggested that "milestone inspectors" should be given the job of digging on the Spencer estate. This he said should soon minimise the numbers using Northampton Casual ward.!!
---
Compiled by Dorothy Brawn for Irthlingborough Historical Society
Thank you for reading our Newsletter, we hope you found it of interest. And we welcome you comments.
JULY 2013
GOLD WATCH ANYONE?
At one time it was common practise to reward any employees who had worked for a company for 50 years and Wearra Shoes was no exception. They would be presented with a gold watch by the owner, Mr. Hugh Shortland as a Thank you for their long service
In 1967 there was an additional presentation of a radio to each of three employees who were about to retire and had clocked up 165 years between them.
Namely, Mr. Ernest Shelton 57 years service, Mr. Percy King 52 years and Mr. Horace Allen 56 years. All three had already received a gold watch when they had reached the 50 year milestone. What an achievement !
Sadly it is doubtful if there will be many employees who will stay with the same company for this number of years in these days of short term contracts and redundancies.
---
Carnival Prize Draw
Thanks to the Committee, Irthlingborough there will be a Carnival again in September
Below is a list taken from the Carnival programme of the prizes that were generously donated by local businesses in 1962
. None of them are still in business here today, how many can you remember?
M. B Brightwell and Mr A. Bilson A pig!
The Railway Inn 4 gallons of petrol
E.J.Wright Decorating materials to the value of 10/- (50p)
E.H. Ingyon 1 score of eggs,1lb Diary butter, and St Ivel Cheese
W Russell 3lb Pork Pie
C.W. Thomas Gents Hairdresser Fishing Voucher
M.P. Pack Nylon underset
Ron Garrod Long playing record
G. Burton 50 Cigarettes
Bob Warner 4 vouchers value 10/- each
Nippy Taxis Parcel of groceries
Parsons Corn Shop Voucher
L.A.Wills Box of Christmas lights
Harry Bailey Candelabra
East Midlands Gas Gas Kettle
Favells 1x Pipe
John Longstaff A prize
Irthlingborough & Finedon Darts League£1. 1s.
---
Battle of Waterloo Centenary
Sunday June 9th Irthlingborough was invaded by the soldiers of the Essex regiment 44th of foots as part of the event organised by the Society to celebrate the centenary of the filming of the Battle of Waterloo in the town
The Town Crier announced the event in the rest gardens where the Waterloo Drummers formed up and marched along the High Street to Parson Green near to the Cross, where they gave a short display,
The 44th Essex Regiment, dressed in the scarlet uniforms as worn by the soldiers at the time of the famous battle, then did a re- enactment. Loading and firing their guns!! Some of the younger spectators were then invited to assist the soldiers in loading the guns and to do a bayonet charge!!!
One of the soldiers then showed us a number of items from his kit bag and proceeded to use his tinder box to produce a spark to start a fire. The whole thing was very impressive---a bloodless battle and no call to the fire brigade was needed!!!
Luckily the weather stayed fine although cool
Tea and cakes were sold in the Church where there was an exhibition of photos showing the town as it was 100 years ago
Earlier in the week the Society chairman and the Town Crier/Mayor had appeared on "Look East "to publicise the event.
The brochure produced by the Society was very well received and only a few copies are left for sale at £30.00 each
---
Laundry Chimney
At the end of May, a number of residents of the town were on hand with their cameras to watch the demise of the well known landmark, the Laundry Chimney.
It had been on the cards for some time but was quite a sad day when it finally happened. It was quite a sight to see it gradually being demolished.
The laundry ceased trading in 2006 and the chimney was the last remaining piece of what was once a thriving business. Thanks to the invention of the great labour saving device—the washing machine such places were no longer needed
There are plans to build a number of houses on the site
Many of us have fond memories of the laundry, especially of the sight of the Chimney standing tall in the distance when returning to Irthlingborough , knowing we were nearly home..
The DVD produced by the Society of the history of the laundry is still available and cost £5.00
---
THE DAILY WASHING UP
The housewife can save such an amount of time and trouble if she is methodical in her work.
When washing up, two bowls of water are required—one for the washing and the other for the rinsing. The kettle should always be kept boiling has either to be changed or made warmer
All the dirty crocks should be collected at the side of the sink, plates in one pile, the saucers in another and the cups glasses and jugs all in a row.
Dirty knives should be placed in an empty jam pot or jug placed conveniently near to the water bowl, whilst the forks and spoon should temporarily rest on a dish.
First the glasses should be washed in nice warm water to which a little soap has been dissolved. After this process they should be rinsed in clear cold water.
It is a good idea to have special cloths for drying only the glasses as they require a good polish
Next the spoons and forks and for them the water should be a little hotter and a little more soapy. It is useful to have a bowl of earth in the scullery and all knives and forks used for fish will soon loose their unpleasant smell if rubbed with some of this soil.
They should then be rinsed in hot water. The handles of the knives which are the next items to be cleansed should never be put in water. Instead they should be wiped with a damp dishcloth.
If there are any stains on the knives, a raw potato or a little brick dust will remove marks. After this they should then be immersed in cold water.
The water in which the china is to be washed should be warm and soapy and if the articles are greasy a little soda should be added, but not of the china has any gilt on it.
When the plates are clean set them to drain but the other articles should be dried with a teacloth.
Saucepans and tins come last should be well scoured. If they are enamelled no soda should be used as this may crack the enamel. Fill the saucepans which have been used to cook porridge or milk sauces immediately after use, with cold water; whilst those utensils used for gravy and greasy foods should be filled with hot soda water and left to stand on the hob for a while.
When all the saucepans are clean place them on a rack, or some other warm place, to dry thoroughly.
The washing up bowl should then be scrubbed inside and out and the dishcloth or mop should be rinsed well and hung up to dry the sink tidy should be emptied and the sink well washed down with hot water.
The brass taps too will always look bright if they are polished over once the washing up is finished.
Taken from a Woman's magazine in 1913.
How ever did the housewife of the day find time to do anything else? Thank goodness for Fairy liquid etc and the dishwasher--- or maybe a take away, putting the "dishes" in the recycle bin when finished!!!
Thank you for reading our latest Newsletter, we hope you found it of interest and look forward to your comments.
Compiled by Dorothy Brawn for Irthlingborough Historical Society
July 2013
March 2013
A young neighbour of mine has recently passed his Driving Test and when he told me how much it had cost him, or far more likely his parents, I thought he was joking. The cost of the theory test and then the practical had totalled the best part of £100. I wondered then how much cheaper it would be to sit the test for a motor-cycle. To my amazement the cost was over £100, with the obligatory Highway Code now priced at a hefty £3-95!
These astonishing revelations made me think about when I started driving back in the 1950s. The week after my 16th birthday I went to a dealer in Windmill Avenue in Kettering to collect my first vehicle, a Lambretta scooter. I had never driven before but after a few minutes verbal instruction, and then one or two runs along the short 'service road' the dealer felt confident enough to say that I was ready to drive – yes, drive home along the A6 back to Irthlingborough. The well remembered postman Les Odell, an experienced scooter rider, was going to ride in front of me giving instructions as required. "Start off in first gear," he advised, "and when I wave two fingers at you change up into second!"
The headmaster at Wellingborough Grammar was well used to pupils arriving from the neighbouring towns and villages on bicycles but viewed scooters with a jaundiced eye. He did, however, allow them to be parked behind the bike-sheds – but sternly warned that riding across the playground was not an option, and anyone arriving on a motor-bike would need to park it on the road!
When the time came for a Driving Test one had to go to Kettering – "Drive down Northampton Road and just after the bus garage turn round, drive back up the hill and go half way up Bowling Green Road and turn round. Keep driving round that circuit until I tell you to stop." What the examiner didn't tell me was that he would suddenly run onto the road, clap his hands and shout STOP! – now, that really was an emergency stop.
So far so good then back into the office for the 3 or 4 questions which made up the theory part of the test. And that way my downfall – yes, I had given my copy of the Highway Code a cursory glance but had totally ignored the 'stopping distances' listed on the back inside cover, and the examiner placed great store on stopping distances. I bet if I'd paid £3-95 for that copy of the Highway Code I would have read it several times to make sure I was getting my money's worth, but as I had only shelled out sixpence for it I hadn't treated it with the respect it deserved!
And then followed the bitter blow – failure – making an application for a second test – working for a whole week as errand boy at Allen Road Co-op and converting my whole week's wages of one pound into a Postal Order to pay for it!
Spring is in the air! Time to get on with the Spring cleaning and get the chimneys swept .Remember going outside to see the brush come out the top of the chimney. Something the kids of today have never seen!!
---
Around the piano
I recently watched a programme on BBC 4 showing the life and times of Mrs Mills, that cuddly lady who played sing along piano. At the time when she made her breakthrough on the Billy Cotton Band Show in 1964 I was a teenager who was more interested in electric guitars and motorbikes than wholesome family entertainment presented as Saturday night entertainment on the television.
I now understand that she was probably the best exponent of the vamping style of piano playing that, for many years, could be heard in our pubs and clubs up and down the land. Combining a strong base line and rhythmic chords with a catchy right hand popular melody; her quick fingers and infectious smile made her an instant hit. She was a virtual one-person orchestra.
The war-time sing song, just a few years before, was an occasion that the whole family looked forward to. Often an impromptu event around the old joanna raised spirits and made reality disappear for an hour or two.
The piano was once a common piece of furniture in the home for many years. Its end came about when space was needed for the radiogram and television. It then featured in piano smashing events up and down the country never to be played again.
However, I do remember my parents holding musical evenings in the 1950's in our home at the top of Queen Street before the violent demise of our instrument. The hinged lid on the piano stool would be lifted and the wonderful world of well-used sheet music would make an appearance. Those present at our home-made entertainment would be Mr and Mrs Len Berwick from Lilley Terrace, my Uncle and Aunt from out of town, my parents Anne and David, my grandmother, my sister Margaret and yours truly. It was quite a room full. I do remember that the repertoire was more along the lines of 'Green Sleeves' than 'Roll out the Barrel' and included renditions from all the ladies present and my father who was a bass singer. Occasionally Len, who worked in the shoe trade, would bring his violin and play along. He was also my long suffering violin teacher and probably sat cringing during my efforts.
These were the days when folks used to make their own entertainment and the piano played an important part in this process. Piano playing in public houses is rare nowadays and an electronic keyboard is the weapon of choice in our clubs. It is portable and stays in tune but it doesn't ring with the same poetry of its predecessor.
It was good to stand around the piano.
While we're on the subject it would be an idea to compile a list of those in Irthlingborough who played the piano in our public houses and clubs. If you can remember the names of the entertainers and where they performed please send us an email or pass the information on to one of our members. Thank you, I look forward to your replies.
Philip Watts
---
Gotcha!!!
During my time as collector for the Mutuality club in Irthlingborough occasionally, on Saturday morning I would find myself in the Fitzwilliam Café, just past the station on the old bridge. The reason for going there must have been a customer, I can't imagine that I would have gone all that way for a cup of tea!
Quite often there would be one or two other" tally" men in there and as we all knew one another we would get talking about some of the customers we had. We all knew the ones we had to catch on Friday while the pay packets were still "warm" Generally there would be a milkman, perhaps a lorry driver or two—"Good food and clean beds and a good price" they would say. Who would dare say different whilst Vikki was standing at the counter. Occasionally there would be a stranger with a stock of good jokes. Someone said he was an insurance man but I think he was an undercover man for the Rushden Co-op
Vicki would lean over the counter listening to the jokes and, sometimes bettering them, but on this particular day she had her, "Best don't mess with me mate," face on..
Slapping her hand on the bar she said "Who'll give me half a crown for half a quid?" As there were no takers, Vicki kept up the pressure and in the end, knowing this wouldn't end well for me- I dipped into my silver bag and said "Here y'ar then" and put 2/6 on the bar.
She snatched it up shouting "Muggins !Muggins!" at the top of her not inconsiderable voice and put one half of a torn £1 note down on the counter, technically half a quid. So there was me,--half a crown down plus mickey taking all round.!!!!
Terry Marshall
---
BATTLE OF WATERLOO
The Society is planning a special event on Sunday 9th June 2013 to celebrate 100years since the filming of The Battle of Waterloo started in the town.
It will be from 2pm to 4pm, the venue to be announced later. Make a note in your diary.The brochure we have produced is selling well. See more details on the website to order.
Thank you
Dorothy Brawn
September 2012
I found this poem in The Argus-August 1891 but it could just as well been written in 2012!!
THE RAIN!!
Rain !rain! rain!
By night and day it comes
It inundates our rivers
Our gardens and our homes.
Fretting the narrow brooks
Filling them to the brim
Making the cunning water vole
Out of their lairs to swim
Down on hayfields ripe and ready
For the scythe or the machine
There spoiling what it nourished
The heavy rain hath been
To see the golden cornfields
Is a great grief to me
Their lovely heads bowed down
Like men in slavery
The ripening wheat and barley,
The bells of waving oats
There seems a dirge of sadness
In their erst cheerful notes.
A very little sunshine
Not much of summer sky
Loaded with rain o'erhanging clouds
Day after day go by
A rainbow! Oh cheering picture
A token and a sign
To erring man assurances
Of love and power Divine
Forgiven he our complaining
The harvest time we know
Shall come and seed time bless
And turn to joy our woe
Penned by John A??
---
Report of a town meeting
Mr. Corby called the attention of those present to the condition of the old Cross. It was getting very dilapidated and the big stones lying around were dangerous. He believed the improvement committee had a little money in hand and if they were willing to spend it on the Cross it would be well spent.
Rev. Thomas Grabham said he sympathised with the object and though a great many of the Parish would do so too. He enquired if anyone present could give a any idea of the probable cost. Opinions were given but it was generally felt the cost would be small.
They thought they had enough funds in hand to take it down –and if it was taken down and some temporary arrangement as made for a time, they though the Parishioners and some others who were interested would subscribe handsomely to rebuild it.
From W'boro News Oct 2nd 1887
With our old Cross in such poor condition this could have been written today but as to whether the "handsome" contributions to rebuild it would be forthcoming seems doubtful, never the less many of us older folk would be very sorry if we were ever to see the demise of the Cross.
---
KIMBOLTON CASTLE
Following on from our visit last year to Kimbolton, members and friends paid a visit to Kimbolton Castle in July for a guided tour.
The first castle on the present site was built about 1200 as a fortified manor house it has been rebuilt and extended on numerous occasions. There was an earlier castle in Kimbolton but this was at the opposite end pf the village to the present castle and was a timber construction.
The tour started via the Dining Hall with its ornate and heavily gilded ceiling and continued on to the White Hall (formerly the Great Hall) where pine panelling alternates with ornate plasters. In this room there are a number of paintings including portraits of past headmasters of the school which took over the castle in 1950.
Next we came to the Red Drawing room where the walls were once hung with red damask. At the outbreak of war the room was being converted into a library and bookcases are still to be seen.
We the went though to the Green Drawing room where there was a fine collection of hand drawn maps of Huntingdonshire dating from 1610-1843, all beautifully coloured with the use of watercolours.
On to the Saloon, a fine room which occupies the key position in the house, overlooking the formal gardens, canal and park. In this room there is a fine marble fireplace and many portraits including one of the 2nd Earl of Manchester as a Parliamentary General in the Civil War
From the saloon we entered the Queen's Room where Queen Katherine of Aragon spent many years in isolation and finally died in 1536. It is said that her ghost still haunts the castle. The adjacent boudoir is now used as an office and has a Queen Anne fireplace and a beautiful painted ceiling. Quite the best office I have ever seen
Next stop was the Chapel, of Tudor origin but remodelled between 1690 and 1720. Murals of Saints Mathew, Mark, Luke and John are painted on the walls and the Transfiguration is depicted above the altar.
Into the Courtyard, where we saw the finely carved stonework above the doorway and the windows, decorated lead rainwater pipes and a large bell on the roof commemorating the appointment of the 2nd Earl as Lord Chamberlain to King Charles 11.
On re entering the castle we went up the Main Staircase to the upper floor. There were fine carvings and wrought iron balustrades up the stairs and beautiful murals covered walls and ceiling. The upper floor is used as classrooms by the school.
Finally we left the castle and returned to our cars which were parked by the Robert Adams designed gatehouse with the North Pavilion, formerly the brew house, on one side and the South Pavilion ,formerly the Laundry on the other.
The evening was a great success only marred by the torrential downpour on the journey home.
Contributed by Stan Collet.
---
Battle of Waterloo
Dozens and dozens of 'extras' were needed for the filming of the Battle of Waterloo and the film company made two very attractive offers to persuade local men to shun employment on the farm or in the factory for a few days.
Firstly, a payment of seven shillings and sixpence per day was offered – secondly, any man who could provide his own horse would be offered a part in the film as an officer!
Needless to say, the offer was too good to miss and production of boots and shoes in the factories came almost to a standstill as their employees were quickly lured by the prospect of 'quick riches'. The factory owners got their own back when the filming had finished by closing down for two weeks for a 'holiday with no pay'.
What you could buy with £1 in 1914
80 pints of beer
67 portions of fish & chips
66 cinema seats
640 cigarettes
1 good quality shirt & 20 pairs of socks
94 large loaves of bread
240 pints of milk (delivered to your door)
353 lbs of potatoes
53 pkts [4oz] of tea
16 cwt of coal
5.7 gallons of petrol
Stamps to post 240 letters
A ticket to travel 252 miles on the train
Next year is the Centenary celebration of the making of the film The Battle of Waterloo and the Society is making plans to mark the occasion. Watch this space!!
---
THE WASHHOUSE
You gave me two good reminders of Bull yard with the "wash houses and the asbestos garages".
The wash houses-- they could be anything they have certainly been been anything in our imaginations, from bandit hideaways if it was just me and Ricey, to a hospital ward if it was some the older girls who used to gather in the yard. They only had to mention" doctors and nurses" and I would fling myself on to the examination table (OH !! happy days) This is always assuming that we were not "oofed" out by the vigilante committee
It was always best to keep clear on a Monday, wash day. Steam would be pouring out of every door and window and all the women would be singing and "going at full throttle".
They used to work in pairs I think. I know Alice Johnson and MUM were a team The only comment I would get from them was "take your trolley and fetch more cardboard bits", these were from the Box factory up Finedon road
One black day was when I learnt the art of fire-raising. Just a few scraps and a box of matches and before I knew it a rafter was smouldering. I have no idea who put it out wish they could have given the same treatment to my backside after DAD had finished with me. MUM used dish out the day to day clips of the ear or a clang across the back of your leg but really serious crimes were dealt with by DAD .I'm glad to say he only gave me two thrashings and this was one of them. Don't forget it was short trousers up to 12 or 13 years so there was no blue jean protection then..
The garages were used as a stage when those older girls put on a show,--- big rehearsals and lots of arguing but it was good entertainment in those days. No competition to the CLAUDINE FOLLIES but who could do that?
Thanks to Terry Marshall for this contribution
Thank you for reading our Newsletter. Please contact us if you wish to make any comments or to contribute to any future Newsletter
---
STOP PRESS
NEW DVD Available from 26th June 2012
"Laundry on the Hill" 60 minutes of memories of the days of the Co-op Laundry.
£5.00+£2.00p&p (UK only)
Please send cheque made out to 'Irthingborough Historical Society' with order.
---
Empire Day
I recently read a lovely piece on Memories where a writer elaborated on a number of school celebrations but only very briefly mentioned Empire Day—May 24th
How do I remember Empire Day at Irthlingborough Schools? Well the evening before I would whiten my plimsolls ready. A round block of whitener on a saucer and a proper "sponge"—dampen the sponge and rub it over the block then apply to the plimsolls-but not too thick- at seven years old I had learned from experience that too much whitener would crack and fall off the plimsolls as you walked leaving a white powdery trail.
There would be the usual lessons during the morning but at 12 o'clock we would run home to get ready for Empire Day. It had been drummed into us that we would be celebrating this day along with thousands of other children the length and breadth of the British Empire.
My white dress with red buttons and piping round the collard and belt would be the ready. I was glad that I could look so posh on this special day. Lots of the girls had white or pale dresses which they wore for the occasion and of course it was unthinkable to wear anything other than white socks.
Those who belonged to the Brownies, Salvation Army Sunbeams Scouts or Cubs were encouraged to go back to school wearing their uniforms.
After dinner and back in our classroom we all queued at the door to march outside into the playground and form up to face the school where the Union Flag would have been run up the flag pole
Usually a leading dignitary (a Doctor, Councillor or Shoe Manufacturer would give us a rousing patriotic speech reminding us that we were all part of a great nation. We would then sing our specials songs. We had been practising so that we were word perfect. I loved Jerusalem—"And did those feet in ancient times" and "I Vow to Thee my Country." I sang with gusto, even though I didn't understand words like, "countenance divine" and what were those "dark satanic mills?"
We would then be asked to salute the flag. We were almost bursting with pride. Yes I loved Empire Day. I remember the words to those some 70 years later and yes, I still feel pride when I go to the park with my dog every morning and see the Union Jack flying on the flag pole in Terry Bonner's garden down Hayway.
Jean Rowland
---
WANTED --- A CLOCK
In 1906, Irthlingborough High Street West often had a different time from High Street East—and this caused "Bee Gee" to write the following Ode.
Our old clock is dismissed from the tower
We jump at the minutes and guess at the hour
Women and children and men in their prime
Go to bed when it's dark –lacking definite time.
The good shepherd says to his flock, "Don't delay,
We'll meet at 6-30 this evening to pray"
Eventide cometh—alas—sure as fate,
The watches are wrong and the people are late.
The farmer to market starts out in the rain
At quarter to twelve-for the ten o'clock train.
Men go to their dinner quite often to see
Others who are just coming back from their tea.
Someday, without doubt, it may cause quite a shock,
If the postman delivers to the parish-a clock.
Who's game for a dollar?A "quid" if you like,
If you all set to work, a new "ticker" may strike.
---
The rhyme seems to have had some result as the following article appeared in the local paper on 27th O October 1906:
The opening ceremony in celebration of the completion of the Church clock was observed on Saturday 27th October.
At 3.30pm a service was held in the Parish Church when the opening ceremony was performed by the Venerable Archdeacon Kitchen, Rector of Rushden.
During the singing of the hymn "O God our help in ages past" the clergy and choir proceeded to the west end of the Church where the rural Dean pronounced a special dedicatory prayer.
The clock was then set going and all within the Church heard for the first itme the quarter sound and the gong strike in sombre tones the hour of 4pm., October 27th 1906.
In addition to the Church clock we now have a clock on the former Co-op Office building which was erected in the year 2000, by Mr G.L. Chambers of G.L. Chambers Developments, who now owns the building.
(Do they always both tell the same time?)
---
Do you remember going to Sunday School?
In the immediate post-WW2 period it seemed that nearly every child attended Sunday School. So many children attended the Salvation Army where Violet Reynolds, Lilian Langley and Bill Langley amongst others held sway that the Young Peoples' Hall, later known as the Green Hall, was purchased to accommodate them all.
There has been a Sunday School associated with St Peter's Church for well over one hundred and fifty years. In fact, the Rector speaking in 1899 spoke about 'our long established Sunday School.'
The Baptist Church too did sterling work also and may well have established the very first Sunday School in the town in 1816.
The various Sunday Schools certainly catered for the needs of children in the town by organising so many varied activities, but possibly the most eagerly awaited was the annual trip to the seaside for scholars, parents and friends. My mother was flabbergasted one year when it was decided that the Salvation Army annual trip would be to London Zoo. She would much have preferred her annual dose of a biting cold wind at an East Coast resort!
Those trips must really have required some organisation – firstly in choosing a destination to suit everyone; agreeing on a charge that the majority could afford to pay in those cash-strapped days; collecting the money in weekly instalments; issuing tickets with both bus and seat number, having considered all requests as to where people wanted, or didn't want to sit; and finally, getting the convoy of up to ten United Counties single-decker buses away on time.
Do you remember those wonderful days? The great excitement of walking along the High Street at half past six and seeing bus after bus lined up – newsagents George Bradshaw, Burton at the Cross and Crawford Jones open and ready to serve the excursionists with comics and sweets for the journey – and the odd extra wooden chair being fetched from the Army Hall when it was found that thirty people had been allocated to a twenty nine seater bus.
Those were the days of course well before motorways or modern A-roads and when a 30 mph speed restriction for buses was in force. No wonder that it was nearly dinner time when the convoy finally arrived at its destination, having made two obligatory comfort stops en route.
Many regard those post-war years as the halcyon days of the Sunday School at St Peter's with Miss K.E.Mason holding sway as Superintendent and ably assisted by the likes of Mr Ellard, Miss F.Dickens, Miss E.Hewitt, Mavis Anderson, and Elizabeth and Hazel Lines, whilst Mary Lee, Miss Lane and Miss P.Ingyon assisted Miss Lovell with the Infants.
A change in direction came in 1967 when on 3rd September the Pathfinders met for their first meeting. The aim was to cater for the over eleven age group and sports, rallies and quizzes were added to the programme.
The Youth Fellowship was already pretty active by then and Roger Lines recorded in the Church Magazine that his group were constantly being congratulated on leading inspiring services! Roger always was an optimist, and liable to exaggeration!
Roy York
---
And a Piece of Cheese please
The gin and water episode published in the DEC.2009 issue of the Newsletter bought to mind a tale told to me soon after I started work for Thompsons, round about '43 I think.
Told by either Bill Johnson or Bill Knighton. These were two labourers in the ground working gang, nearly always working together and always bickering. Whichever one it was told me he was working in a harvesting gang for a very mean farmer (no it was not the one you're thinking of!!) The farmer's wife would fill those stone narrow necked jugs from the barrel until the froth was seen at the top. That meant there was sometimes more froth than beer.
This did not suit BILL at all. So he made sure that someone would slip a piece of cheese in a jug whenever he could "Nothing like a bit of cheese to take the head off a pint" says he.
These were two great characters but it seemed as though most of Thompsons men of that time were
Contributed by Terry Marshall
DIAMOND DAYS
The Diamond Days Exhibition held at the Methodist Chapel over the May Bank holiday weekend was a joint venture between the Methodists and the Historical Society.
In the Chapel a number of mannequins were on display dressed in wedding dresses from each decade including the 1950 to the present day, each with the original bouquets beautifully replicated by the Methodist ladies.
Numerous wedding photos from the Historical Society archives were displayed around the Hall.
More photos from the Society's collection were shown in the Goliath Hall, of Irthlingborough over the past 60 years including many long gone shops and buildings and numerous photos of sporting events.
A large number of visitors came from the surrounding area, and few from further afield. Lunch of soup and rolls were on offer and tea, coffee and delicious home made cakes were available throughout the day
All in all a very successful and enjoyable time, and hopefully the forerunner of more joint ventures between the Methodists and the Historical Society..
Thanks to all who helped with the Exhibition and to all the visitors whose complimentary comments made it all worth while!!
The following evening (Tuesday) saw members and friends of the Historical Society on a tour of St. Peter's Church with an informative talk on its history from our Chairman Roy. The evening ended with a fish and chip supper and all agreed it was most enjoyable. .
Laundry Project
During 2011, The Society has been working very hard on a Heritage Lottery funded project
to commemorate the Co op laundry at Crow Hill, Irthlingborough which was a major employer in the
town for many years but sadly is no more.
We are producing a DVD of interviews and memories of the laundry which will
be available in the summer of 2012. There will also be an exhibition at the Crow Hill
Community Centre with photos and the chance to share your own memories.
The date is still to be finalised but we hope to hold it on 26th June 2012
so make a note for your diary !
---
Timeline
We are at the early stages of creating a timeline for the town.
We currently have assembled 42 pages dating from the time of King Offa in the 6th century up to the present day.
---
The Leisure Club
At the preparation stage is our project to record the beginnings of the town's Darby and Joan Club
(also known as 'The Leisure Club').
Memories of this club would be most welcome via this website.
---
March 2012
Trouble-makers at the Sally Army
Peter Cotton, a shoe-hand from Rushden was summoned for disturbing the congregation of the Salvation Army at Irthlingborough on June 28th 1896.
Capt. George Gates said that whilst a Special Service was being held the defendant, who was drunk, disturbed the proceedings and had to be turned out by the police.
Fined 5/- and 6/- costs.
Harry Bollard, a riveter of Irthlingborough was summoned for assaulting William Issitt on January 1st 1897. The disturbance arose through the defendant having interrupted a Salvation Army service.
Fined 5/- and 6/- costs..
---
From Wellingborough News 12th Feb 1960
At the Cross in this impatient age are those who find time to sit and reflect on the quieter times they have known--- they do so at their peril!
Cars and Lorries have a restricted view when many of our elderly residents gather at this meeting place.
What is to happen in the future? Far better for this custom to continue and grow. We, the citizens of Irthlingborough occupied this hallowed spot long before the motor car, if anything must go then it should be the impatient car.
When the centre of the town is re-planned that is just what will happen. I understand that traffic will be diverted leaving the Cross an almost isolated backwater
It is a county project but might there be room in the estimates to provide a few seats for our elderly residents?
We now have the seats, the Cross is still a prominent landmark but- woe betide anyone who dares to sit on the Cross!!
---
Christmas Lunch
Once again members of the Society and a number of friends held their Christmas lunch at Knuston Hall in beautiful surroundings with a very attentive and helpful staff. All agreed that our decision to hold this event in January 2012 made it a more relaxed and enjoyable occasion than trying to fit it into the days before Christmas, when the hectic schedule of other celebrations and of course the inevitable shopping fills our time.
We are all looking forward to our next Christmas meal at Knuston.
---
FROM THE PARISH MAGAZINES
A glance at the St. Peter's Parish Magazine of September 1968, illustrates what a wonderful variety of shops we once had in the town.
George Burton, the Bus stop Tobacconist, a wide range of fresh cakes and daily bread from Teats.A. 7 M Shepley for hardware and decorating supplies. Austin, Morris, Ford Riley and Singer cars from Cyril Abbott at The Central Garage. Everything for the home knitter as well as Aristoc & Wolsey Hosiery available from the Wool Shop, cooked meats and sausages from W. Russell, whilst The Cross Stores supplied everything one could possibly expect from a General Stores
Haircuts by Mr. Thomas, near to the Cross whilst further up the High Street was Mr. Sharman. Chiropody, in the form of home visits by Tom Needle; Summerfield and Sparkes offered Exotic Perfumes Make-up and Toiletries, whilst a full catering service, including, wedding receptions and parties at home was offered by The Chocolate Box
What pleasant memories such adverts conjure up, but it is pleasing to see that one advertiser from 1968 is still serving the town today. I refer of course to Bob Webster & Sons the High Class Florist in the High Street. They have I fact extended their services to include a large range of equipment available to angling enthusiasts
Services to residents have also diminished—long gone are Builders and Contractors W. Thompson & Sons, and also Peter Childs, Coles the Printer, Painting & Decorating, Plumbing & Heating by Plant & DeBanke and Electrical Services formerly offered by John Longstaff.
Long gone too are fond memories of Divi Day at the Co-op. What a day-with queues stretching from the Office counter, down the stairs and into the High Street as shareholders waited for their share of the profits--- a staggering £15,802 in 1967!!
Roy York
---
The following were added by Jean Rowland
Iodine Lockets. Our Mum used to purchase these every autumn from Coles the Chemist. A thin smooth medicated black locket dangling from a red cord which we wore round our necks throughout the winter. The locket sort of evaporated as time went on. They were supposed to keep you from getting chesty colds. (We were embarrassed by them so we always tucked them under our jumpers!)
Pots of Virol. A spoonful a day (or two if you could get away with it ) promised to keep you healthy.
Derbac Soap. The slogan was "Keeps heads clean". The tablet of soap was jet black and when rubbed into your hair lathers a yellow colour. Our Mum always washed our hair in Durbac" A strong smell but quite pleasant
Friday night – a spoonful of Syrup of Figs (enough said)
Goose grease Ugh!!
Gordon Moores Toothpaste As teenagers we loved these tubes of red toothpaste. Instructions were to clean your teeth with it first, squeeze a little on your finger and rub on your gums which became redder and as a result your teeth looked whiter (or so it claimed). Now only made in America, I remember rubbing it on my lips as well to make it look as if I was wearing lipstick. Make up was forbidden at the time.
---
Wellingborough News October 5th 1917
GRAND OPENING OF THE IRTHLINGBOROUGH THEATRE
Mr R.G. Robinson is the manager.
The Star Picture is "TOM BROWN SCHOOLDAYS" and the supporting feature "The Purple Domino"
The opening night played to a crowded audience as people tried to forget the War for an evening.
Mr. Betts supplied efficient and varied musical accompaniment on the new "baby grand" piano
---
Jubilee Celebrations
The Historical Society are joining with the Methodist Church to mark the 60 years of the reign of Queen Elizabeth11 and to celebrate the Olympic year.
There is to be an exhibition in the Goliath Hall of photographs of Irthlingborough during the past sixty years and also some with a sporting theme, and in the Chapel, a display of wedding photographs, wedding gowns and a number of floral displays. This will take place on :
Saturday 5th May 10am-4pm
Sunday 6th May 2pm-4pm
Monday 7th May 10am-2pm
Admission is free and all are welcome to join us.
---
THE LAUNDRY PROJECT
Much of the work on this project has been completed and at present Phil is burning the midnight oil making the DVD which we plan to have ready for 26th June when we shall be holding an exhibition at the Crow Hill Centre
We hope you enjoy our Newsletter and welcome your comments.
---
Dec 2011
Birmingham Back to Back
We expected our outing on Saturday to be enjoyable but it far exceeded our expectations.
Members of our Society journeyed by train to Birmingham to visit the Birmingham Back to Backs- a National Trust project and the last remaining courtyard of this type of houses in the Midlands.
It is located in the heart of the city and just five minutes walk from the Bull Ring Shopping Centre.
We had an excellent guide who, as a child of the 1930's had lived in the area and could tell us from experience what life was like before the complete demolition of all but these last few properties in the mid 1960's.
It was like stepping back in time to go into these small red brick houses and see them set out in exactly the style of the day.- the furniture, the photos and in some cases the gas fittings! (Can you remember the fragile mantles?). We were told of how the wallpaper was stripped back, through
many layers to the very first one. This was then photographed and re- copied by a wall paper company.
Up the curved staircase there might be a bedroom with 3 single beds, sleeping 6 children top to toe, and a double bed for Mum and Dad. No wardrobes though, just a few hooks on the back of the door.
The kitchen was a delight- it looked as if Mum had just made a meal. The floured board, rolling pin and the remains of the pastry, the spices ingredients and utensils drew you to the table.
Close by on a small bench were the tools of Dad's trade, according to the 1890's Census he was a watch and clock repairer, working from home .
There was no "don't touch" rule here, it was so nice to be encouraged to examine the items and even sit on one of the chairs should you be feeling weary. Of course like the Irthlingborough Yards their washing and toilet facilities were across the yard.
There were also a numbers of old toys— and those of us who thought we were good at it couldn't resist "having a go at the whipping tops"
Behind the house were the shops, built so that their back wall and the back wall of the houses were one and the same. The last remaining shop belonging to George the Tailor was preserved exactly as he left it when he retired.
The Back to Back project is well worth a visit and the Historical Society members can recommend it to anyone looking for a super day out, but you do need to book your tour before you go.
Report by Jean Rowland
---
St. Peter's Way
The ancient lane, known in previous centuries as Higham Way and Post Office Lane is still often called by its more recent names of Gosham Road or Meadow Lane by the older residents of the town, despite being renamed St Peter's Way several years ago.
Here and there were a number of terraced houses, some built entirely of stone whilst others had brick fronts and stone backs. Some of the cottages had two rooms both up and down but many were half that size. Almost all had just one door and water was fetched from standpipes.
The first row of cottages was on the right hand side of the road and in 1901 the widowed householder of the middle cottage had turned one room into a grocery shop whist still living there with five adult children. More cottages stood on what is now the driveway leading to the car park of the former Kwik Save Supermarket.
Along the Church Walk and facing the Churchyard was the lovely old stone built house owned by Joe and Fanny Britchford and their family. St. Peter's House had an attractive stone built frontage with 5 windows, one of which had stained glass, and an imposing front door. The lounge and a living room were separated by a long hallway leading to the cellar. There was an additional bedroom under the stairs and the single storey kitchen had its own door. Upstairs there were three bedrooms with a staircase which lead up to the attic. The toilet and pump were in the garden
Nearer to the Church the cottages had the postal address of "The Square"
The narrower part of the road after the Royal Oak Public House was usually called The Lane and here the householders had the great inconvenience of their washhouses, barns and shared toilets being on the opposite side of the road to their cottages.
The last brick built terrace of just three houses which faced the cemetery gates were occupied in the 1930's by Maurie Cox , Bob Abrams and Jack Morris. Maurie Cox was a meter reader for the Gas Company and
children would often be sent to him for help when Mum got a penny stuck in the gas meter, always being instructed to call him Mr. Cox and not Maurie. He was always happy to oblige
The Lane continued on to Higham Ferrers until 1992 when the pleasant walk changed dramatically with the extraction of our sand and gravel. Former residents of the "Old Gosh" would still recognise the first and second bridges but the landscape of deep lakes would be completely foreign to them. Higham Ferrers can now only be reached by walking across the steep footbridge over the busy A45
It is fitting that the bungalows which now replace the former cottages carry on the old name of Oak Way Meadow Walk and Gorseholm Court
Jean Rowland
---
BATTLE OF WATERLOO FILM
It is over ten years since the Historical Society, under the guidance of member Bob Thorogood, unearthed the whereabouts of the surviving parts of the film The Battle of Waterloo.
When shown in Irthlingborough for the first time in over ninety years the film drew capacity audiences during its three night run at the Methodist Schools. This event was covered in great detail in the local press, and by BBC and ITV who both sent film crews to the occasion. Later the discovery of the film was the subject of a fifteen minute programme recorded in Irthlingborough by BBC Radio Four.
From press reports of the time, we know that the filming in Irthlingborough at the beginning of June, 1913 had a tremendous effect on the life of the village, and we also know that it was regarded as a 'block-buster' of its day, having cost in excess of a mammoth £5,000 to produce.
"Rarely has there been such excitement as when the film company moved in to stage full-blooded sequences of cavalry charges, infantry fighting among the farm buildings, and artillerymen working their old-fashioned canon. It was like half a dozen circuses coming to town on the same day!
Never before in the annals of Irthlingborough have there been scenes so exciting and magnetic as those enacted this week in the making of this historic film. For three days the battle raged, and whether in the town itself or on the stretch of land lying behind the Three Chimneys, or on the sloping surface of the Feast Field, or in the large meadow lying off Finedon Road, a crowd of immense proportions gathered to see the spectacle being presented before the camera." reported the Wellingborough News on 13th June, 1913.
During recent research Jean Rowland unearthed further evidence of the film's success. Just over a fortnight after filming was completed in Irthlingborough the London Daily Chronicle, referring to Irthlingborough as just a tiny village near Northampton, reported that the recently produced film had been shown privately to buyers at Pykes Theatre in Charing Cross Road. The general impression was that it would be a success. A week later when all the titles had been added, for this was, of course, a silent film, it was shown to the Press and Exhibitors.
On 11th July, 1913 the Wellingborough News said, "It was almost more than the London Palladium could do to find room for the enormous crowd that besieged the place on Tuesday to see the famous Battle of Waterloo by the British & Colonial Film Company. Something quite unusual was evidently expected, nor were they disappointed, for no sooner was the film running than the audience burst in with hearty applause to show their approval of the stirring life-like incidents portrayed.
2,000 soldiers, 1,000 horses and 50 cannon are employed in the 115 scenes. From the famous 'ballroom scene' with which it begins, right to the exile of Napoleon there is interest and excitement. Local picture palaces will have a great time when this wonderful film is brought into the district, and little doubt the same scene will happen wherever the picture is exhibited."
The same paper later published a letter from Messrs. J.Nurrish & H.W.Dickerson who had seen the film at the Colonial Theatre in Toronto, Canada. They reported that it was a great success and attended by huge numbers of people.
Unfortunately there was no picture palace in Irthlingborough at that time so local people, many of whom had been employed as 'extras' in the film, had to crowd into the original tin clad Harmonic Hall in Scarborough Street. The whole showing of the film was surely punctuated with excited cries of pleasure as members of the audience recognised themselves, or their friends and relations on the silver screen.
The first week in June, 2013 will be the centenary of the film being made in Irthlingborough, an occasion that really does need to be marked.
Members of the Historical Society are already beginning to consider ways in which to do this, but we would be particularly grateful if readers of this newsletter and members of the public could come up with any ideas as to how this should be done. Obviously we cannot guarantee to use every suggestion but we really would appreciate your ideas.
Please get in touch and let us know what your suggestion is.
---
REMEMBERING THE CO-OP
Thanks to generous donations to Irthlingborough Historical Society they were able to erect Blue plaques on two of the former Co-op buildings in the town. One in the High Street on the building now owned by G.L. Chambers Developments and one at no 70 Finedon Road where the very first shop was opened in 1885
The family of the late Dave Stevens, who had been a member of the Society for a number of years, asked for donations in his memory and Maurice Rawlins had asked for donations instead of presents on his 80th birthday and these monies enabled the purchase of the two plaques.
The Mayor and the Town Crier attended the unveiling as did the present owners of the buildings along with Society members and families of those who had donated to the project.
Plaques were unveiled by the Stevens family, Maurice Rawlins and Mrs Gill Marshall, who is the Great Granddaughter of George Dickenson who opened the first Co-op shop.
Mr.Gordon Chambers of G.L. Chambers Developments, who kindly erected the plaques on both buildings, was cheered by the crowd as he fetched a ladder and climbed up to adjust the "curtain" which failed to open successfully!!
Our thanks to all who made this project possible.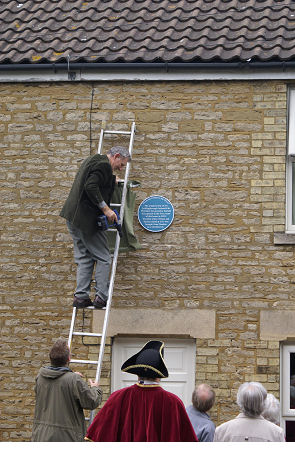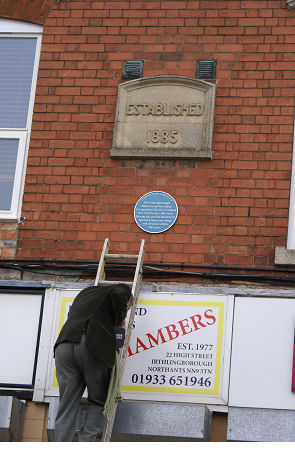 We hope that this Newsletter finds you all well and we send our best wishes for Christmas and the New Year. We appreciate your comments and thank you for your continued support.
If you are resident in the area and would like to join us, the Society meets on Tuesday evenings at 7-30pm in the Methodist Schoolrooms and would be pleased to welcome new members.
February 2008
Help was requested in looking for persons for our WW 1 'In Memoriam' Project:
Benjamin Allen
Joseph Allen
George Barwell
John Bettles
John Britchford
Archibald Dicks
Alfred Edis
Walter Elliot
William Fairey
Frederick Fleet
Bertie Freeman
George Horn
Christopher Horne
Ernest Houghton
Joseph Keech
Herbert Kendall
Thomas Lee
John Liddington
Thomas Munn
Charles Newman
Sidney Panther
Sidney Perkins
Benjamin Rice
Ernest Saxby
Walter Seamark
Charles Sherwood
William Sherwood
Arthur Spriggs
Fred Styles
Horace Thompson
Joseph Tinsley
Samuel Tinsley
Frederick Turner
Harry Warren
Sam Whiteman
John Wrighting
John York
---
Irthlingborough WW1 Casualties – the final few
ABBOTT, Herbert – born in Rushden but later lived in Straw's Yard, Irthlingborough.
Married to Helen. Their son George was baptised at St Peter's Church on 12th July, 1908.
AGER, Percy - born Irthlingborough in 1897 and baptised at St Peter's Church on 25th July, 1897.
He was the son of Annie Lottie and John Ager, a shoemaker who lived in Lilley's Row.
Mrs Ager married again after her husband's death and became Annie Lottie Neville.
BARWELL, George Henry – born 1899 in Kettering.
Attended Irthlingborough Baptist Sunday School so the family could have settled here.
BUGBY, Alfred – born in Raunds and worked at Wm Shortland's Tower Boot Factory.
FAIREY, William Henry – was born in Irthlingborough.
FLEET, Frederick James – resided at Enfield – possible connection with the Methodist Church.
GOOSEY, Jack Sidney – the son of Mr D. & Mrs M.A.Goosey of The Royal Oak, known locally as The Drum & Monkey. Jack was born in Wellingborough.
LIDDINGTON, John Francis – born 1896 in Great Addington but later moved to Finedon. Employed as a packer at the Tower Boot Factory, Victoria Street, Irthlingborough.
PANTHER, Sidney Edward – son of Mrs A.M.Panther, 75 Addington Road, Irthlingborough. Member of the Church Institute.

HORN, George Frederick – son of Edward & Hannah Horn – born 1894/5– enlisted Northampton.
PERKINS, Sidney – son of Alpheus and Sarah Perkins of Lilley's Row.
He was a member of St Peter's Church Choir and the Church Institute.
THOMPSON, Horace – born 1895 - son of George Arthur & Beatrice Thompson, 49 Addington Road. Scholar at the Baptist Church.
TINSLEY, Joseph – born St Pancras and lived in Finsbury Park, London.
TINSLEY, Samuel – lived in Hammersmith, London. Not necessarily related to Joseph Tinsley.
WESSIN, A – we know nothing at all of this man and no Wessin is listed anywhere as a casualty.
WILLS, George – lived in Bull Yard, Irthlingborough – enlisted at Northampton.
YORK, John Edward – born in 1891 in Raunds [or possibly Rushden], the son of Isabella, and the step-son of James Meekins of Jubilee Street, Irthlingborough.
---
Newsletter
August 2004
This newsletter has been put together by Jean Rowland and member Dorothy Brawn (nee Ager). We have included a bit about our recent activities, what's happening in the town and items from old newspapers- hoping you will find it all of interest.
We like the cellar of The Evening Telegraph Office in Rushden- it's a really fascinating place. The staff have got to know us quite well- and know where we want to go as soon as they see us. All around the cellar are large yearly bound copies of old local newspapers, some dating back to the late 1890's. What a wealth of local interest. We're only searching for Irthlingborough items but there's so much that catches our eye- we just have to read it- and a couple of hours passes like minutes. We're collecting such lovely reports from these papers- we just find we need the strength of Samson sometimes to haul those heavy books down and then- lift them back into their original space, especially when the rest of the "heavies" on your shelf seem to have moved over.
One or two people have mentioned that they have photographs of youth groups or areas of Irthlingborough of a few years gone by and would we like a copy? YES PLEASE! Names, if you remember them will be helpful. Many thanks.
---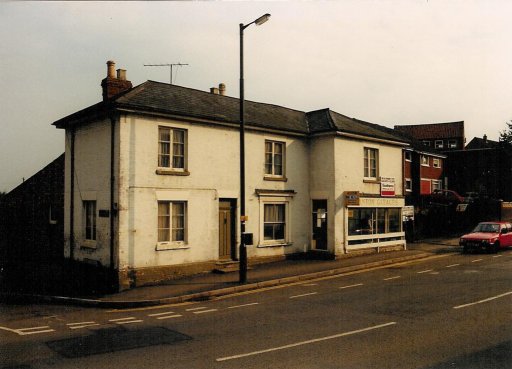 Some of our readers will remember this better as "THE VINE", the red-bricked Public House in High Street West. When Ozzie Marriott bought the building he changed it to a car saleroom, it was painted cream and re-named Manton Garage Car Saleroom. The picture featured here is when the old pub was again "up for sale".
---
Wellingborough News 1901
At their meeting on Nov 5th Members of the Irthlingborough Urban District Council voted to appoint "An Inspector of Nuisances" at an annual salary of £30.
(Today an Inspector of Nuisances would be call an Environment Health Officer and some years earlier, a Sanitary Inspector). The word "nuisance" used to have a more specific meaning that it has today.
Refuse heaps, smells, drains, stagnant ponds, overcrowding, insanitary conditions and epidemics of smallpox were all classed as "nuisances".
---
Where are these? (see the end of this article)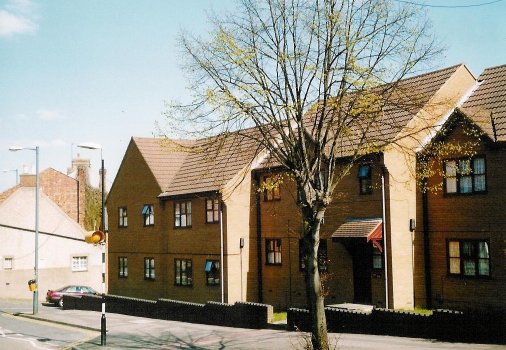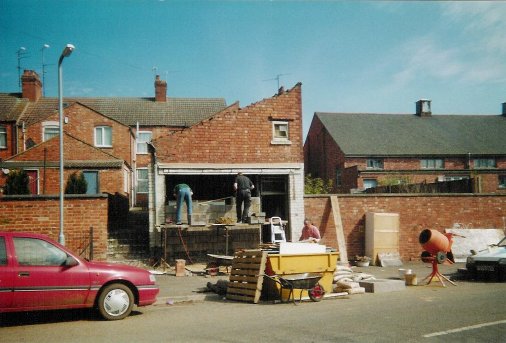 ---
"THE BATTLE" ENDS IN MARRIAGE
If you have any connection with Irthlingborough you will surely know, and no doubt have a relative who took part in, the film "The Battle of Waterloo" which caused a great stir when it was filmed in the town. Some local factories had to close down for a few days due to lack of labour. This was brought about by many of the workers being tempted away from their machines to become "extras". At 7/6 a day this was too good an opportunity to be ignored.
The director was Charles Weston, an American who, during the filming, stayed at the Horseshoe Inn. The landlord was Mr. Joseph John Inward, both his wife and his son Jack were to play small parts in the film, and his daughter Alice soon caught the eye of the film director. Romance blossomed and in April 1910 the following report of their marriage appeared in the local newspaper, the Wellingborough News.
A very pretty wedding, and one which attracted a large congregation in the Parish Church, was solemnised on Monday morning. The officiating clergy being the Rector (Rev. J.K. Taylor), contracting parties were Mr. C.H. Weston, second son of Mr. F.C. Weston of Jacksonville, Florida USA and Miss Alice Inward, the youngest daughter of Mr. J.J. Inward, landlord of the Horseshoe Inn and superintendent of the Fire Brigade. The bride was attired in a beautiful travelling costume of navy blue and was given away by her father. Mr. Tom Johns of The Retreat, Bloxome acted as best man, the bridesmaids were Miss Coombe of Finedon, who was dressed in wedgewood blue, Mrs Dunmore, sister of the bride and Miss White, cousin of the bride, were attired in wine coloured dresses with large black picture hats. The presents were numerous and valuable .The happy couple left the Midland Railway station at Wellingborough on the 3.16, en route to Paris where the honeymoon is to be spent.
---
Wellingborough News February 1895
Skating accident at Irthlingborough. An accident happened on Sunday afternoon when two men, H Massom and P Warren, two young men who were in a large number of persons skating on the river down the meadows. To avoid some of the people, the two men who were going in opposite directions accidentally collided most violently, with such force both received nasty gashes on the forehead. They were assisted to Doctor Robb's surgery where their wounds were stitched up.
---
VOTES FOR WOMEN!!
Earlier this year we had a very interesting talk by Peter Barratt whose Great Grandmother Alice Hawkins was a suffragette.
She was born in 1863 in Leicester. She worked, as did many young girls at the time, as a shoe machinist. Working conditions and pay were far inferior to the men working alongside them in the factories. Later Alice was fortunate enough to work for Equity Shoes in Leicester and although workers were encouraged to join the trade unions Alice soon realised that women's voices were seldom heard.
In 1907 she attended a meeting of the Women Social and Political Union (WSPU) in Hyde Park and this was to change her life. After the meeting the women marched to the House of Commons to demand the vote for women. Mounted police charged the march and Alice was arrested and imprisoned.
This did not deter her, she continued the fight and was to be arrested 13 more times and spend 5 terms in prison.
The WSPU began a tireless campaign, speaking at factory gates and village greens throughout Leicester and Northamptonshire. Local newspapers reported meetings in the area, some at the homes of various sympathisers, one of them being Mrs. Featherstonehaugh of Irthlingborough.
Not all were sympathetic to the cause although Alice was lucky to have a very supportive husband and family who often attended meetings.
Peter had many newspaper cuttings telling of the heckling and physical abuse suffered by the women. We were also able to view many lovely old photographs and postcards which had been received by Alice from prominent members of the movement, including Emily and Christobel Pankhurst.
Alice worked in a factory and brought up a family at a time when life was so much harder. To travel to meetings must have been difficult, no just hopping into the car as we do today. In addition to her work as a suffragette she did a great deal of work with the trade union movement, attending meetings at Rushden and Higham Ferrers, to improve conditions in factories, especially for women who had to fight hard for recognition in the movement. She must have been a remarkable woman and has left a wonderful legacy behind. Women like her helped to change and improve the way things were and we have a lot to thank them for.
Alice Hawkins died on 12th March 1946. Peter passes on this message from his Mother. "My grandmother(Alice) said to me when I was a teenager ' you must always use your vote, we suffered for it' and I always have."
Let that be a lesson to us all!!
Recently Peter attended the Antiques Roadshow in Pontefract and was given a 5 minute slot in the programme. Look out for this in the next series, WE KNOW you will find it fascinating
---
An insight into our activities
Were you in Irthlingborough on Wednesday morning, June 17th, you may have wondered what a washing line, adorned with old-fashioned bloomers, corsets and liberty-bodices, all blowing in the wind was doing tied up in the Methodist jitty. (You know the one that leads from the High Street, past the Schoolrooms and Chapel up towards the Working Men's club in Victoria Street?)
Here's the answer in a report from the Evening Telegraph a couple of days later…
"A 1930's Washday in Vine Yard" was the title of a presentation given by Irthlingborough Historical Society Members Jackie Morton and Roy York to three Infant School classes.
The children were talked through a typical Monday washday from 4.30am when the fire under the copper was lit through to the washing using a dolly tub and stick, the rinsing and blue-bagging, hanging out and ironing with the heavy flat iron. They also discovered that residents of the yard had to fetch their own water from the communal well and that the main meal of that busy day was made up of left-overs from Sunday dinner.
Although Roy and Jackie were able to use many artefacts from the Society's collection they would be really grateful if anyone could offer them a real dolly-stick to make future presentations even more authentic.
If anyone is able to help, give the Society a ring.
You don't know where Vine Yard was? = then why not purchase a copy of IRTHLINGBOROUGH - LIFE IN THE YARDS, which gives a glimpse of life in many of Irthlingborough's yards prior to their demolition in the post-war period. Fifty-six pages full of information and interest for just £1. Plus p.p. (if appropriate)
You see, we work for all adult and children's interest- this is the 2nd year we have been approached by the Infant School to have a class at a time to portray some part of "past people in Irthlingborough's history".
---
June 12th –One-day exhibition celebrating The Salvation Army in the town.
Almost 200 people signed our visitor's book and it was wonderful to see so many former Sunday School scholars or members of the various Youth Organisations recognising each other, sometimes after 20, 30 or even 40 years.
We had been preparing the exhibition for 6 months since Cadet Officer Deborah Oughton (the present Officer in charge here) first suggested it.
People were eager to help- the Salvation Army has touched the lives of so many people- even if it was only remembering their lovely jacket potato and pea suppers in the old Salvation Army Hall in Lee St. (remember "Army Hill" with its iron bollards at the bottom?) or seeing the photographs which reminded us who had been a Sunbeam, a Lifesaving Guard, a Youth Legion Member, a Junior Band Boy or Singing Company member. The really old photos of the Senior Band with its hotchpotch of uniforms, the old large bonnets or basin-type hats of The Songster Brigade are so well preserved- typical of the good processing of the day. (Will our photographs look so well in 80 years time?)
All in all, a wonderful day. We quite forgot the hours spent collecting, copying, returning, laminating, numbering (for return to our archive). Our Tuesday evening meeting following any of our exhibitions is spent going over the event- can it be bettered next time etc? and we all agreed- the work we did over the months was more than amply repaid just seeing the faces of those who came, the memories shared with us- and those reunions…….
Now we look forward to doing it all over again- To coincide with The Crouch Road Allotments Association who will hold their Horticultural Fruit and Flower Display in The Harmonic Hall, we plan to hold a "Forties Exhibition" when everyone was urged to "Dig for Victory". We found that holding two exhibitions of differing tastes together brought more people into both halls- after all; they are almost next door to each other. We hope for a fine day on August 14th 2004.
This report appeared in The Herald and Post. W/ending June 19th.
Photo show celebrates 120th year
A group with a passion for the past is unearthing the history of a town.
The latest offering from Irthlingborough Historical Society was a photographic exhibition celebrating the 120th anniversary of The Salvation Army in Irthlingborough.
It was held last Saturday at the Methodist Schoolroom in Victoria St, Irthlingborough.
Group members collated more than 250 photos and memorabilia charting the history of the organisation.
Chairman, Roy York said; "A lot of these photographs go back to the late 1880's. The Salvation Army was almost a social thing as much as a church group.
We have a massive archive but we also had a really good response from the public in lending photographs for this exhibition"
Mr York said the shared interest of all members is finding out about Irthlingborough's history. He said: "There are a lot of stories behind this town. All our investigations are concerned with Irthlingborough and we hold a three-day exhibition every two years. We are very much a research group and always have ongoing projects"
---
And an appeal…. (Do you know of any help you can give?)
Our members have been chipping away at the history of one of Irthlingborough's big mysteries- the Rockleigh Children's Home. We recognise that as time passes, more and more people say they remember talk of there being a home here, but they don't really know anything about it. (It was in Wellingborough Road).
We are now appealing (through the local press and free papers) for anyone who knows anything at all about the Home to get in touch with us- we have set out to discover its history.
We want to know if you worked there, lived there as a child, or simply know anyone connected with it. This subject has been on our back-burner for some months and we are making little headway.
Roy York told the reporter, "Everyone of my generation knows of the Home, they can remember talk of it, some remember children from the Home who attended the local schools and were in their class, but it's one of those things, if we don't soon find something out about it, it will disappear entirely"
The Society has accounts from people who met children from the home at some point, we have copies of newspaper research which says the children from the Children's Home were treated to a tea and cinema show by the Chairman of Wellingborough Council.
We also know that the home was part of The Cottage Homes Group but other than a Cottage Home being in a house, we are no closer to finding out what "Cottage Homes" group was.
We are relying on help from our readers…….and if you remember anything…from you.
Our book "Clicking to Closing" brought some lovely shoe factory tools to our Society so we all spent a Tuesday evening giving them some "elbow grease"- rubbing, sanding, greasing and polishing. We enjoyed it so much we then set about planning another evening to give our farming implements the same treatment.
---
'Where are these' photo's
Vine Court
If you have not visited Irthlingborough for some time you could be forgiven for not knowing that this block of flats replaced THE OLD VINE PUBLIC HOUSE.
During demolition the outbuildings to the rear were found to be extremely interesting for nothing had been changed for many years. A tall hand-pump in an equally tall, purpose-built narrow shed, some quaint stones and an old well were uncovered but a digger was quickly brought in to remove those years of history. Nothing must hinder building work!
A residents' car park has been made at the back with a very steep incline from the road. Indeed, a recent incident of a not too firm handbrake could have resulted in far worse than a bump into a low brick wall.
Foster Abbott's old shop in "backway"
When Foster Abbott (a former grocery errand boy) opened his shop here in Victoria St, he was so delighted with his progress he advertised, posting a leaflet through every door in Irthlingborough.
How many children, we wonder, popped into Foster's on their way to or from school to sample those "bullseyes" (you just had to keep taking them out of your mouth to see how the colours and eyes changed) or that lovely yellow fizzy "Cay-lie" that Foster weighed into his home-made cone bags.
That purchase usually resulted in a bright yellow forefinger and a sore tongue. Do you remember the liquorice "dip"?
Foster was always eager to please his customers, be they adult or child. He would be horrified to see his old shop all breeze-blocked with the plastic sheeting, meant to keep out the rain- just flapping in the wind!