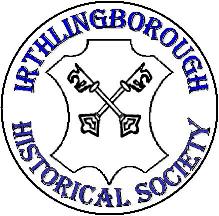 Supported by the Local Heritage Initiative:



Irthlingborough Historical Society was founded in 1990 with the specific aim of actively researching and recording the history and development of the town from its earliest existence.
Aims:
* to gather and record evidence of the towns history from both printed sources and the memory of individuals
* to regularly publish the results of our projects in a series of soft cover books
* to research and stage major exhibitions in St. Peter's Parish Church
* to mount Spring and Autumn exhibitions in both the Parish Church and Methodist Chapel of photographs donated to
'THE IRTHLINGBOROUGH PHOTOGRAPHIC ARCHIVE'
* to research, write and stage dramatic presentations and re-enactments of historical events of local interest
* to mount displays in various locations within the district which enhance any historical event of local interest
Work of the Society:
* We provide speakers to give talks on historical matters relating to Irthlingborough
* Arrange guided tours of the Parish Church and Ploughman's Suppers for adult groups, visiting societies and the people of Irthlingborough
* Act in the capacity of Archivist to the Parochial Church Council
* Advise the Town and District Councils on matters of historical interest
The Irthlingborough Photographic Archive:
The archive was launched as part of our Millennium Project and contains over 2000 photographs of buildings, events, teams, outings, shops, vehicles and scenes of Irthlingborough. Photographs loaned to the Society are copied, catalogued and returned to the owner within a few days.
We would encourage anyone with such photographs depicting life in Irthlingborough to contact Mrs Jean ROWLAND, our Secretary, so that images of this fast changing town can be preserved for the benefit and enjoyment of everyone.